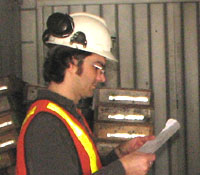 Doug Roy, M.A.Sc., P. Eng., joined MineTech in 1997.
He received his Bachelors of Mining Engineering in 1997 from the Technical University of Nova Scotia (now a part of Dalhousie University), and his Masters of Applied Science in Geostatistical Resource Estimation in 2000, also from Dalhousie University. Between 2005 and 2011 he was a director of the The Mining Association of Nova Scotia.
His duties at MineTech include resource/reserve estimation, mine design, and permitting, as well as project oversight.
Past projects include a 2007 Feasibility Study of ScoZinc Corporation's Scotia Mine, a lead-zinc mine. Some of his recent projects include:


2009 Code of Practice permit for Scorpio Gold Corporation's Caribou mine
Engineering and oversight on a 2010 scoping study (including resource estimate) on a gold property in northern Ontario.
43-101-compliant resource estimates for:

shear zone hosted gold deposit in Mali, West Africa;
shear zone hosted gold deposit near Timmins, Canada; and
shear zone hosted gold deposit in northern Saskatchewan, Canada;

Underground permitting work for two past producing Nova Scotian gold deposits, including Scorpio Gold's Caribou Mine that is slated to begin construction in Fall 2010.
Detailed, third-party review of a resource/reserve estimate for a VMS (volcanogenic massive sulphide) nickel deposit in Nunavut.