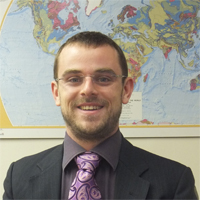 Lucas Dickie, B.Sc., P.Eng., joined MineTech in 2013.
Lucas grew up on a dairy farm in Nova Scotia, receiving a Bachelors of Science in Physics from Dalhousie University in 2005, and a Bachelors of Engineering in Mineral Resource Engineering in 2007. He recieved his P.Eng. designation in 2015.
Lucas has worked in the mining industry since 2004. His experience includes work in research and development, head and regional offices for junior, mid-tier, and major mining companies, through to exploration projects and operating mines, both open pit and underground. Lucas has been able to draw on this wide range of experience to enhance his value as a consulting engineer, working in Canada and abroad.
His duties at MineTech have included working on technical mining studies (preliminary economic assessments, pre-feasibility, feasibility), preparing codes of practice for dewatering and exploring past-producing mines, and operational assistance with currently producing mines.
Lucas' native language is English. He has a working fluency in Spanish and French, and a basic understanding of Russian.